Suicide Prevention Awareness Campaign
A suicide prevention and community engagement project by Aldea.

Our goal is to engage with students and community members at large to minimize the stigma associated with asking for help and for allies in our community such as teachers, law enforcement, parents to pledge to be there for anyone who needs help, no questions asked.
Aldea, meaning little village in Spanish, has been our compass since 1972, that all residents have the opportunity to thrive , creating a community that works for everyone. Our vision is simple. All people we serve will achieve emotional wellness and become engaged members of the community, despite past abuse or emotional challenges.
Suicide Prevention Conference 2017 overview
Keynote Speaker Kevin Briggs Guardian of the Golden Gate
Suicide Prevention Conference-Spanish Leaders
---
Our inaugural supporters of Courage Village were handed "keys to the village" at our kick off event on September 14th, 2016, for their commitment to mental health and suicide prevention in our community!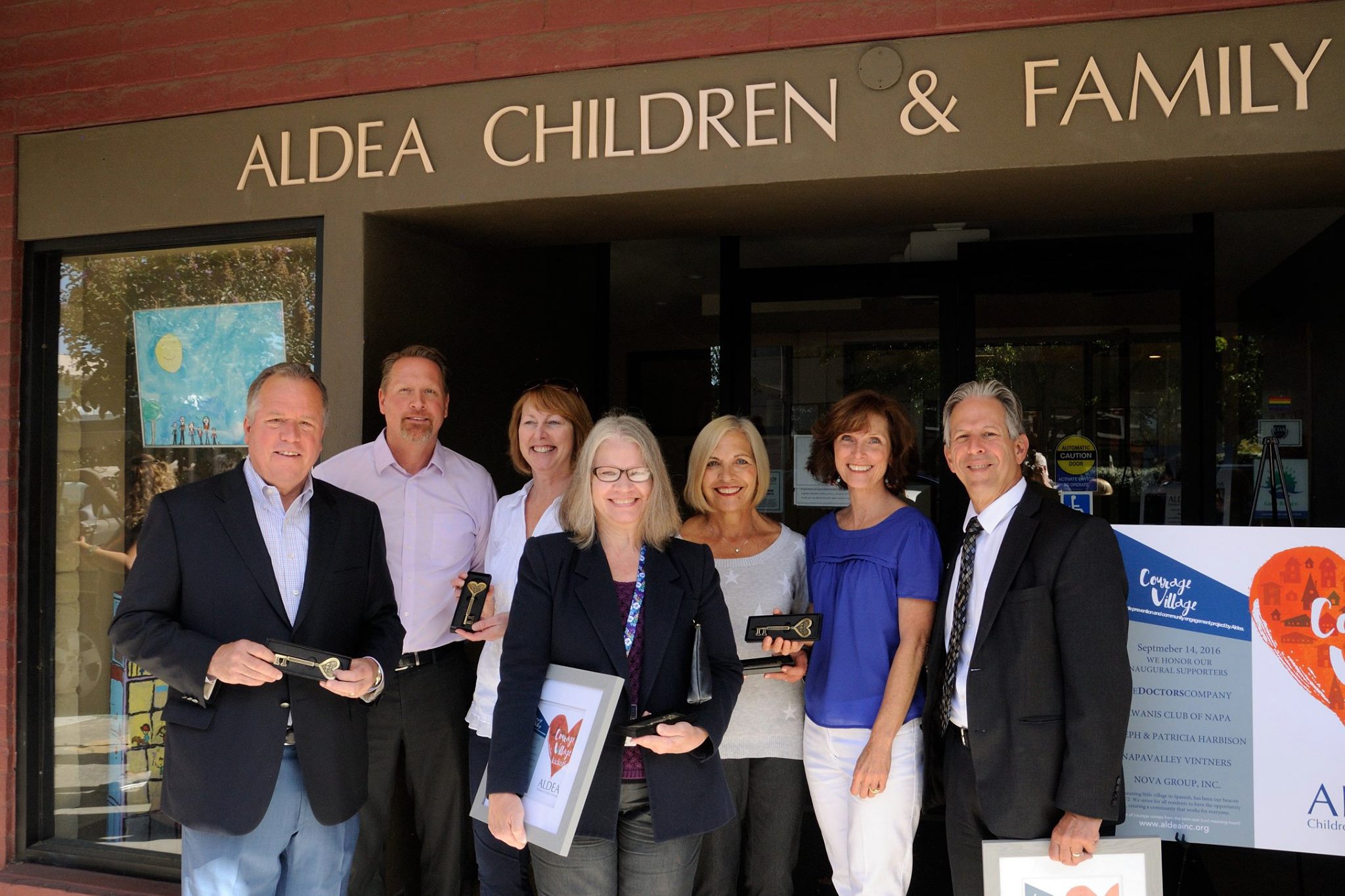 Assemblymember Bill Dodd, Napa Valley Vintners, The Doctors Company, Kiwanis Club of Napa, District Attorney Gary Lieberstein, Joseph & Patricia Harbison (not pictured), Nova Group, Inc. (not pictured).
---
Courage Village and Village Napa have collaborated on various community programs for teens and adults to get the help they need during difficult times including a speaker series, support groups, stress management tools, mental health first aid training, a social media campaign and a peer counseling group.
Past Events:
September 14th- Courage Village Launch and Open House
September 23rd- Suicide Prevention Awareness Month Conference
September 29th- Courage Village Speaker Series Kicki-Off with author and parent educator, Vicki Hoefle
October 6th- Extended conversation author's talk with Vicki Hoefle
October 13th- World Café, a creative discussion format at New Tech High for teens only
Upcoming Events:
Stay tuned for more opportunities to continue the conversation on suicide prevention and improving the mental health in our community!
Take the pledge today to ask for help or be there for someone in need. Pledge Form
If you missed an event, catch all the highlights below!
Courage Village Launch and Open House
Suicide Prevention Conference 2016
Aldea Children & Family Services and Foster & Kinship Care Foundation Program (FKCE) at Napa Valley College, hosted a morning of conversation and education on mental health and suicide prevention on September 23rd at the Napa Valley College Performing Arts Center.
Parents Connect! Speaker event with Vicki Hoefle
Speaker event and discussion, organized by Courage Village and Village Napa, opened the conversation about how to support children during their most stressful and emotional years. Vicki is parent educator and author of The Straight Talk on Parenting: A No-Nonsense Approach on How To Grow a Grown-Up.
"Courage is what it takes to stand up and speak; courage is also what it takes to sit down and listen."
- Winston Churchill