In Napa, Solano, and Sonoma Counties, Aldea has long been respected as the essential community partner for children and families, providing professional mental health, child welfare, and support services to meet urgent and critical needs. We believe that in a family's most critical moments, the company of a trusted professional can mean the difference between strength and suffering. Every day, our expert staff walks with young people on their journey to healing, providing the care that brings both short-term comfort and long-term resilience. Because with a community of support, they discover their own ability to create a new life, one moment at a time. You are an essential part of that community support with your participation.
Let us share just a few examples of how funds raised from this event could be used to Change a Life:
Behavioral Health Services
Social Services
Courage Center
Aldea's annual Change a Life fundraiser honors an individual or family that has created a brighter future for themselves and their community through participating in our services with the Courage to Change a Life Award.
Join us at our annual event in April 2023! You will find yourself among kindred spirits of community champions like yourself, ready to pitch in to Change a Life.
More details to come!
---
---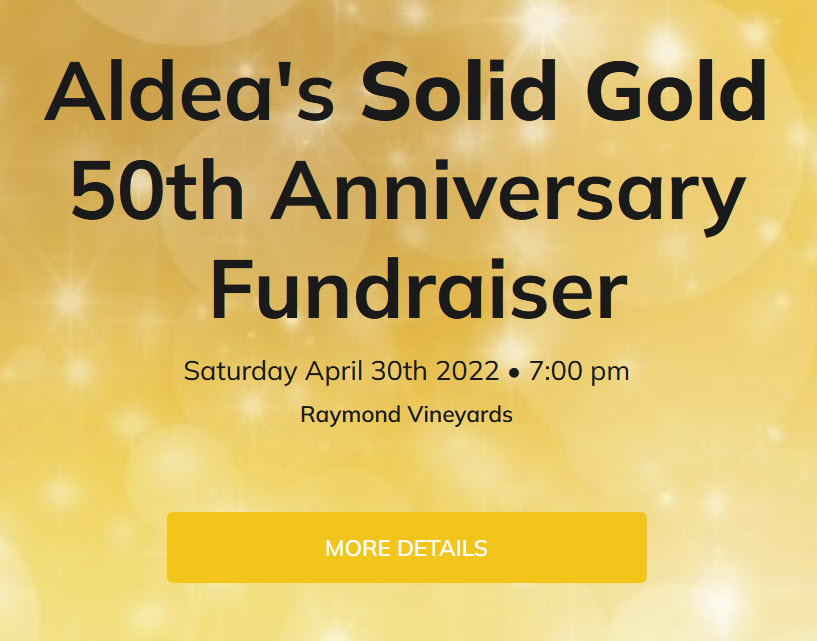 Aldea's 50th Anniversary Gala will take place the evening of April 30, 2022 at Raymond Vineyards! Join us as we acknowledge fifty years of impeccable service and tireless dedication to the children and families in our community. Plan on a night of great music, tasty food, fabulous auction items and overwhelming generosity from our incredible community partners, donors, volunteers, and staff. We are looking forward to celebrating with you!