Napa County




Click here

Click here

Click here

Click here

Click here

Click here

Click here


Napa Valley Community Foundation

Emergency Financial Assistance in response to COVID-19 / Asistencia financiera de emergencia en respuesta a COVID-19

Financial assistance to any resident including undocumented residents. / Asistencia financiera a cualquier residente, incluyendo personas indocumentadas.
Click here

Click here

Click here

Click here

Click here

Click here

Click here

Click here

Click here


---

Solano County

All Fairfield-Suisun Unified School District Families,

All schools in the Fairfield-Suisun Unified School District will be closed to students through Friday, April 17th, 2020, which was the previously scheduled final day of Spring Break. The first day back to school for students will be Monday, April 20th, 2020.

At this time, we will still be feeding ALL CHILDREN ages 18 and under starting March 17th, 2020. However, because of the Governor's recommendation that people who are more vulnerable to COVID-19 should isolate themselves at home, we are reducing the hours and locations of feeding to keep our staff safe. Children will be able to receive food from 11:00 AM to 1:00 PM each weekday during closures from only the following schools:

Todas las familias del Distrito Escolar de Fairfield-Suisun,

Todas las escuelas en el Distrito Escolar de Fairfield-Suisun estarán cerradas para los estudiantes hasta el viernes 17 de abril de 2020, que fue el último día programado previamente para las vacaciones de primavera. El primer día de regreso a clases para los estudiantes será el lunes 20 de abril de 2020.

En este momento, seguiremos alimentando a TODOS LOS NIÑOS de 18 años o menos a partir del 17 de marzo de 2020. Sin embargo, debido a la recomendación del Gobernador de que las personas que son más vulnerables a COVID-19 deben aislarse en sus hogares, estamos reduciendo horas y lugares de alimentación para mantener a nuestro personal seguro. Los niños podrán recibir alimentos de 11:00 a.m. a 1:00 p.m. cada día de la semana durante el cierre de solo las siguientes escuelas:

Vallejo City Unified School District

During the temporary closure of schools, VCUSD will continue to provide nutritious meals to all students who need them. Starting Wednesday March 18th to Friday March 27th food will be offered at the listed schools. We will offer "grab and go" breakfast and lunch meals at the following sites:

Loma Vista (at the entrance doors to the cafeteria)
Federal Terrace (at the entrance doors to the cafeteria)
Lincoln (outside of the cafeteria)
Hogan (at the side cafeteria doors facing Georgia Street)
Bethel (in the parking lot near the cafeteria/student union)

Times should be 10:00/10:30 am (or until breakfast supplies last) And lunch from 11:30-1:15pm

Locations may change after March 27th.

Distrito Escolar de la Ciudad de Vallejo

Durante el cierre temporal de las escuelas, VCUSD continuará brindando comidas nutritivas a todos los estudiantes que las necesiten. Desde el miércoles 18 de marzo hasta el viernes 27 de marzo, se ofrecerá comida en las escuelas mencionadas. Ofreceremos desayunos y almuerzos para llevar en los siguientes sitios:

Loma Vista (en las puertas de entrada a la cafetería)
Federal Terrace (en las puertas de entrada a la cafetería)
Lincoln (afuera de la cafetería)
Hogan (en las puertas laterales de la cafetería que dan a Georgia Street)
Bethel (en el estacionamiento cerca de la cafetería/unión de estudiantes)

Los horarios son de 10: 00/10: 30 am (o hasta que se agoten las existencias del desayuno) y el almuerzo de 11: 30-1: 15 pm

Las ubicaciones pueden cambiar después del 27 de marzo.

---

National

Click here


Click here


Click here


Click here


Click here


FREE COVID-19 Testing Center - City of Hayward, CA
The COVID-19 Testing Center, at Hayward Fire Station #7, 28270 Huntwood Avenue., has been established to take pressure off hospital emergency rooms, provide quicker answers for recently exposed first responders and health care workers, and to enhance the region's capacity to suppress new transmissions through isolation after testing. The Center is outfitted to test up to 350 people a day. It is free to the public and open to anyone regardless of where they live or immigration status. Read the full news release.
HOURS OF OPERATION:
Generally, 9 a.m. - 6 p.m. Tuesday through Sunday or until the maximum available number of tests for the day are exhausted. Closed Mondays.
Relief Funds for Undocumented Workers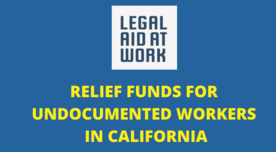 To assist undocumented workers who have lost their jobs or income as a result of the Coronavirus outbreak, Legal Aid at Work has compiled a list of known relief funds for undocumented workers. This list will be updated as new information becomes available.
Para asistir a trabajadores indocumentado/as quienes han perdido su trabajo debido al pandemia de coronavirus, Legal Aid at Work (Ayuda Legal Laboral) ha publicado una lista de fondos de alivio para trabajadores indocumentado/as. Se publicarán recursos nuevos cuando estén disponibles.