Twitter Feed
Aldea in the Community
You can support Aldea while attending the Frys.com Open!
The Frys.com Open, an official PGA TOUR tournament, will be held October 8-12 at the Silverado Resort and Spa in Napa, CA.
20% of the cost of tickets sold by Aldea Children & Family Services will go back to support Aldea. To support Aldea, simply visit this website: http://ticketing.frysopengolf.com/single/EventListing.aspx?promo=ALDEA&m=10&y=2014  and enter "ALDEA" in the partner code (promo) box in "ALL CAPS" when you log in.
General pricing is as follows:
Season Ticket: Wed – Sun, $175 good all week
Daily Tickets: Wednesday – Thursday, $35 per day
Friday – Sunday, $45 per day
A Child 14 & Under receives FREE admission when accompanied by a paid adult
Each ticket also includes FREE convenient parking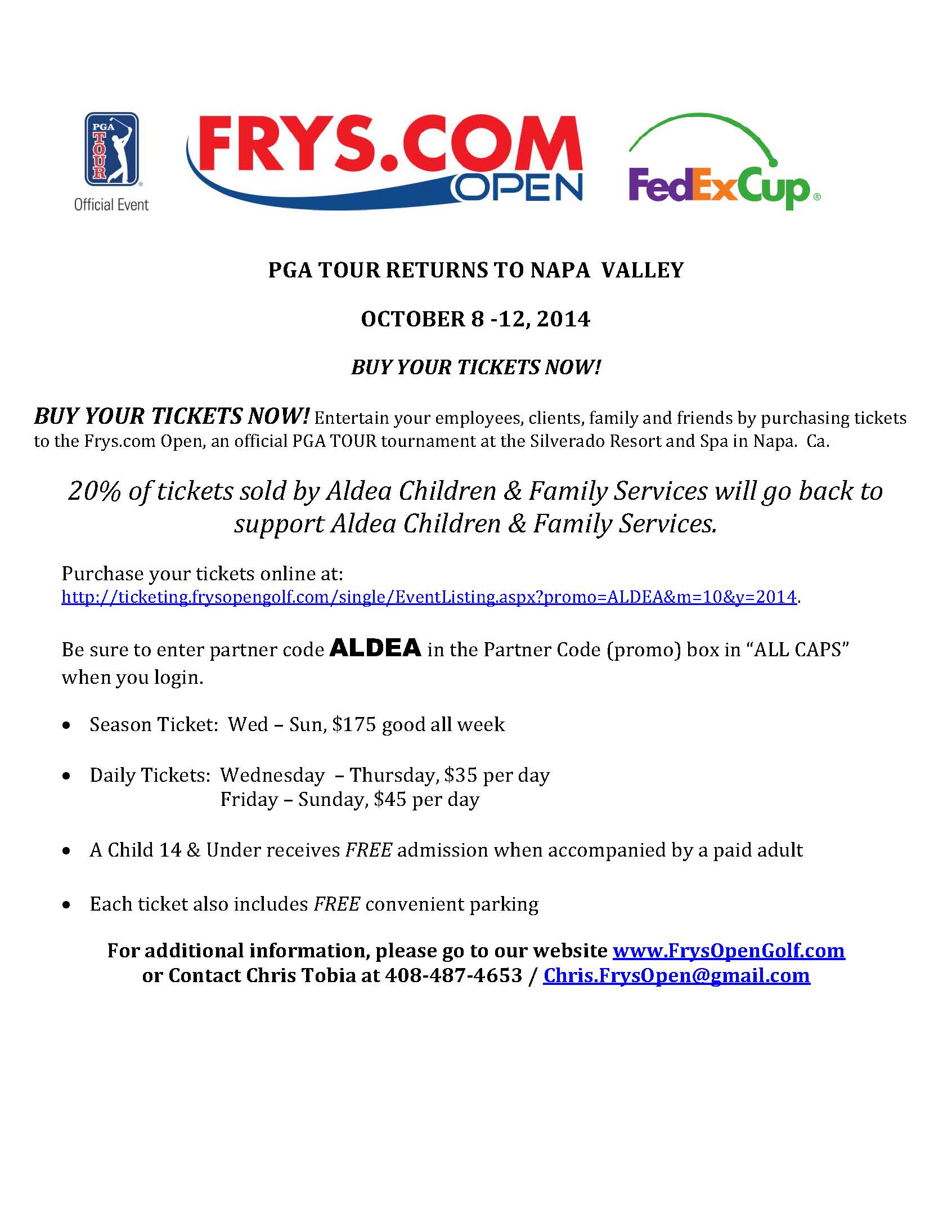 To purchase corporate packages while benefiting Aldea, please click the "Download PDF" button below.
For additional information, please visit website www.FrysOpenGolf.com or Contact Chris Tobia at 408-487-4653 / Chris.FrysOpen@gmail.com
Upcoming Event
National Recovery Month Walk/ Rally and Resource Fair
Stop by the Aldea booth at Napa County's 6th Annual Recovery Month Walk/ Rally and Resource Fair in observance of National Recovery Month!
When: Wednesday, September 17, 2014
Location: Veteran's Memorial Park (Corner of Third and Main Street, Napa CA)
Sponsoring Organizations: Napa County Health & Human Services Agency, Alcohol and Drug Services Division and the Advisory Board on Alcohol and Drug Programs (ABAD)
Primary Event Contact: Maria Osorio at 707-253-4266 or MARIA.OSORIO@countyofnapa.org
National Recovery Month is a national observance in September that educates Americans on the fact that addiction treatment and mental health services can enable those with a mental and/or substance use disorder to live a healthy and rewarding life. The observance's main focus is to laud the gains made by those in recovery from these conditions, just as we would those who are managing other health conditions such as hypertension, diabetes, asthma, and heart disease. Recovery Month spreads the positive message that behavioral health is essential to overall health, prevention works, treatment is effective, and people can and do recover.