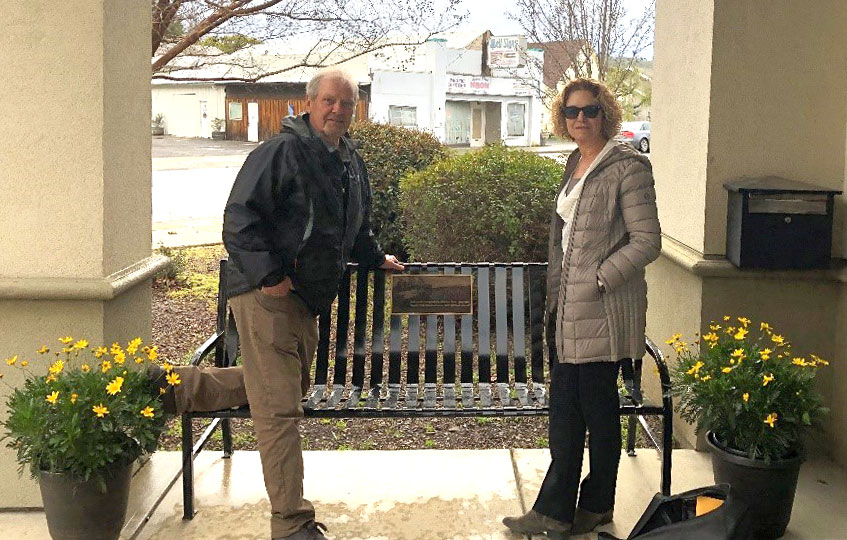 On Monday afternoon February 4th, the family and 4 co-workers of Michael Senn came to pay tribute and honor his life. Michael Senn died by suicide on February 3rd, 2016 and left a legacy gift to Aldea in his will. The bench has a memorial plaque with the image of Taft Point from Yosemite National Park. It was a favorite hiking spot for Michael and his ashes were brought there in October by his family.
Pictured is Michael's older brother Charley and wife Jenny who came from San Luis Obispo to join us. Charley shared that Michael had struggled with mental health issues for a very long time. They felt he left Aldea the gift because of his struggles in childhood, hoping other children would get help sooner than he did. They are pleased that Michael chose Aldea to leave a legacy to help others in our little village.
The phrase the family chose for the plaque states, "Peace of mind prevails when you learn to smile at yourself." Despite Michael's struggles his brother said he had a great sensor humor and quick wit that and this embodied the spirit of Michael.
They were excited to hear about Courage Village, our suicide prevention and awareness campaign and the Napa County Suicide Prevention Council that Aldea co-chairs with the county. They could see Michael's legacy to help others in action and were grateful for the work we do.