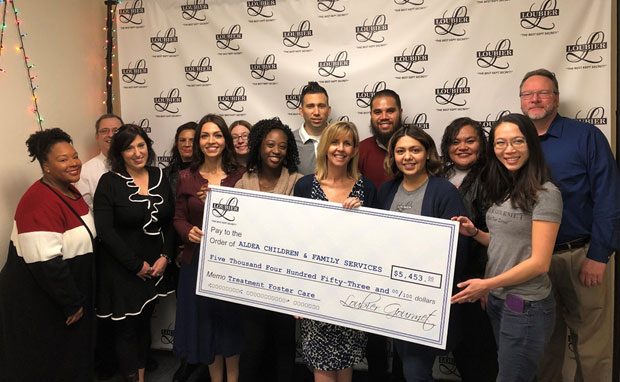 Loubier Gourmet selects Aldea Children & Family Services for their nonprofit partner in helping kids and families in foster care. They recently presented Aldea with a check for $5434 for their foster care programs. Michael Loubier's experience working with children in Oakland gave him an up-close view of the many needs children have to be healthy, happy and successful in life. "The day one of my students asked to come home with me because his dad had gone to jail and there was gun fire in his neighborhood and it wasn't safe, I knew I needed to do more to help, said founder Michael Loubier". Since then, he and his wife Carla have dedicated to use their business as a vehicle to give back to the community. They know they can make a small difference in children's lives and give them hope for a brighter future.
About Aldea Children & Family Services
A beacon in the community for the last 46 years, Aldea Children & Family Services improves people's mental well-being, so they can strengthen their relationships and become engaged in the community. Through critical mental health, treatment foster care, adoption, and support services, Aldea helps more than 3,900 people annually in Napa and Solano counties who face obstacles to accessing and receiving effective treatment.
About Loubier Gourmet
Loubier Gourmet is a local family-owned business based out of Berkeley California. Michael the founder, has over 18 years of experience in the food industry. As years passed with hard work and perseverance, Michael finally fulfilled his dream of owning a small BBQ restaurant in the San Francisco Bay area. Then, unfortunately, within a year both Michael's parents pass away which caused him to take pause and really evaluate what he was passionate about and what he enjoyed doing. From this soul-searching, Loubier Gourmet was created. The business is dedicated to Mr. & Mrs. Jerry Loubier, parents of Michael because of the instrumental role they played in his life. Our goal is to give 15% of our increase to benefit foster homes, charities, ministries, and global organizations that need support.