The Optimist Club of Solano County and Aldea Children & Family Services have partnered to meet the growing needs of foster youth in Solano County.  Through numerous efforts by Optimist Club members, the collaboration has impacted hundreds of local youth in the foster care system.
Thanks to generous donations from committed Optimist Club members striving to "bring out the best out of kids," Aldea was able to equip nearly 100 children with backpacks and school supplies last fall, supplying them with what they need for a successful school year. But the group does not stop there. Members are already preparing for their largest annual fundraiser this fall.
For a third consecutive year, Aldea and The Vacaville Neighborhood Boys & Girls Club have been selected as beneficiaries of the 2016 Miniature Golf Halloween Fundraiser to be held at Scandia Family Fun Center in Fairfield on Friday, October 21st from 5:00-7:00pm.
This event will provide over 100 kids a fun-filled night for them and their families. Each $10 donation will sponsor a foster child from Aldea Children & Family Services or youth from The Vacaville Neighborhood Boys & Girls Club to participate. Optimist volunteers fully decorate, provide food, and fun games for youth of all ages, creating a unique opportunity to engage the community while making a difference in the lives of children and families in need.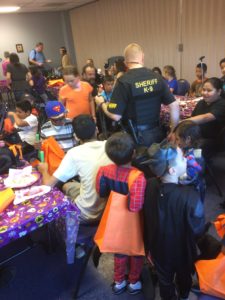 If you or your business would like to sponsor a foster child or family to participate in this event or are interested in becoming an Optimist Club of Solano County member, please contact Optimist Club President, Christina Baird at Christina@littlewingconnections.com or at 707-738-9962.