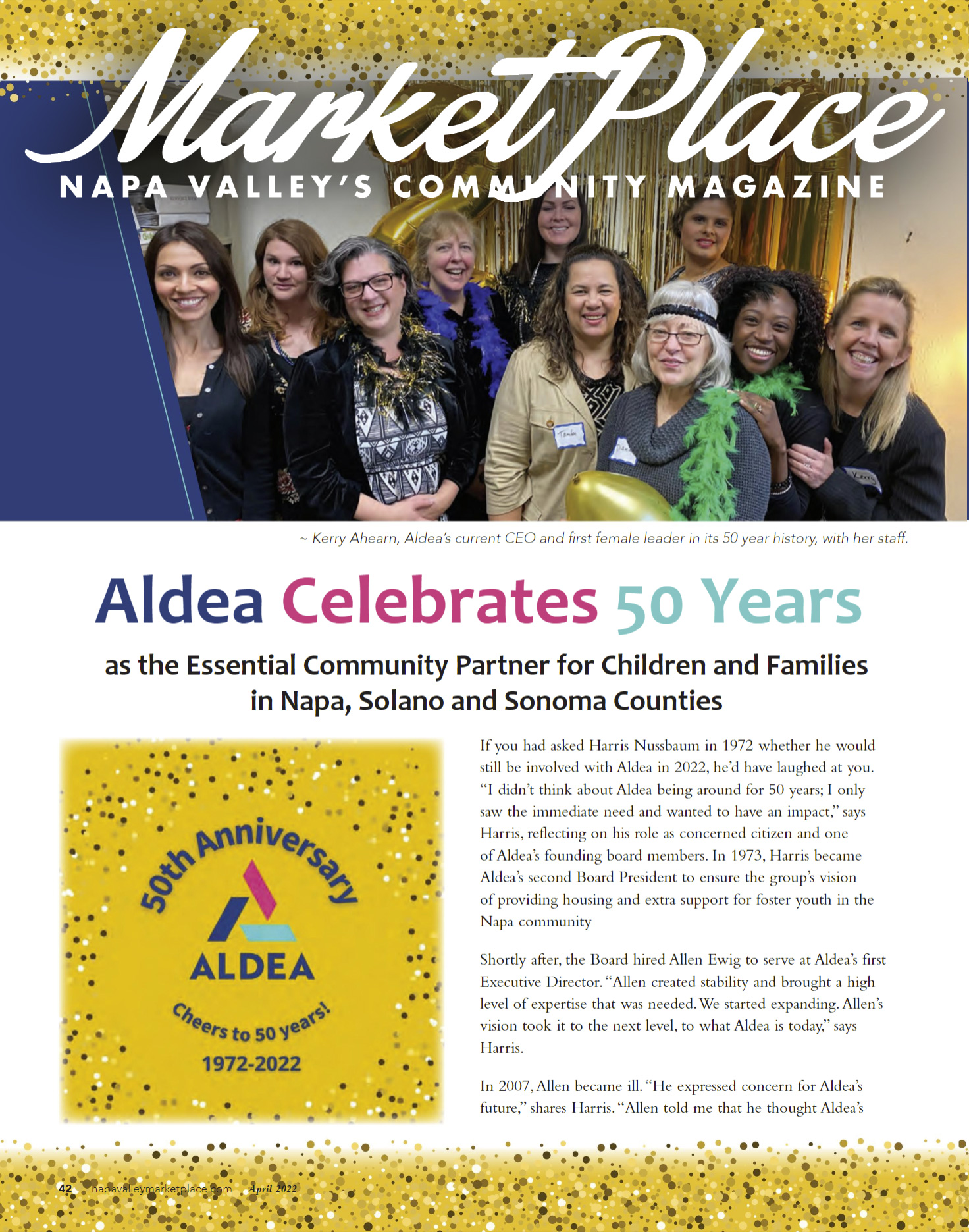 as the Essential Community Partner for Children and Families in Napa, Solano and Sonoma Counties
If you had asked Harris Nussbaum in 1972 whether he would still be involved with Aldea in 2022, he'd have laughed at you. "I didn't think about Aldea being around for 50 years; I only saw the immediate need and wanted to have an impact," says Harris, reflecting on his role as concerned citizen and one of Aldea's founding board members. In 1973, Harris became Aldea's second Board President to ensure the group's vision of providing housing and extra support for foster youth in the Napa community.

Shortly after, the Board hired Allen Ewig to serve at Aldea's first Executive Director. "Allen created stability and brought a high level of expertise that was needed. We started expanding. Allen's vision took it to the next level, to what Aldea is today," says Harris.
In 2007, Allen became ill. "He expressed concern for Aldea's future," shares Harris." Allen told me that he thought Aldea's Deputy Director Mark Bontrager would continue the vision and essence of Aldea." Mark served as Executive Director for 14 years. During his tenure one of his top accomplishments includes strategically growing Aldea into the region s largest foster care provider and specialty mental health clinic.
Kerry Ahearn, LCSW was hired as Aldea's Chief Executive Officer in December 2018. Current Board President Sandra Re Sims is excited for this next chapter, "It's clear that Allen s goal for helping children and families in need at Aldea lives on now through CEO Kerry Ahearn and Aldea's staff."
Kerry Ahearn, a highly experienced, successful, and well-regarded leader, has an extensive track record of success in senior management of social services and behavioral health operations, as well as in health and human services departments of governmental agencies. While managing through a pandemic for the last two years, Kerry has been instrumental in expanding the SOAR program offering early detection of psychosis treatment to Sonoma County. Also, through her leadership, Aldea is expanding substance use disorder services that have only been available in Napa, into Solano County.
"Kerry has committed her entire career in managing community-based, behavioral health, social services and entitlement programs for children, adolescents, families and elders. We are grateful to have someone as experienced and community-focused to lead our organization," said Aldea Board President, Sandy Re Sims. Sandy was appointed Board President in July 2017, after serving as board member since 2015.
Today, Aldea has grown to provide a multitude of services for the Napa and Solano County communities, including substance abuse prevention and treatment for youth, treatment foster care and adoption, and critical mental health services. "Aldea truly is a village of talented people delivering many services through many programs in the community," remarks Sandy, "Aldea goes out into the community and meets clients where they are, meaning if you call Aldea, they will connect you with the program you need to get help. It's important to make access easy for everyone."
"I hope Aldea is able to serve even more people become healthy, to help save more lives," Sandy shares of her goal for the agency. "I would love to see Aldea continue for 100 years! I am very proud of what we started, and what will happen in the future," Harris beams. Aldea is the essential community partner for children and families. We believe that in a family's most critical moments, the company of a trusted professional can mean the difference between strength and suffering. Every day, our expert staff walk with young people on their journey to healing, providing the care that brings both short term comfort and long-term resilience. Because with a community of support, they discover their own ability to create a new life, one moment at a time.
As we make plans for the future of Aldea, we are also reflecting on its past. Over the last 50 years, a group of determined spirits, our talented staff, along with the help of donors, volunteers, supporters, and advocates - like you - have been altering the personal stories of thousands of abused and neglected children, their families. In our programs, hundreds of children a year experience healing.
Aldea translates to "little village" in Spanish. The little village of Aldeas staff, board, donors, volunteers, supporters, and advocates are committed to building a community that works for everyone; where people have their needs met so they can actively participate and contribute to this dynamic place we call home. The community was instrumental in Aldea's development, and the community will be involved in helping Aldea meet its mission for years to come.